What's this Moose about? (Synopsis)
To read the Italian version of this synopsis please click here.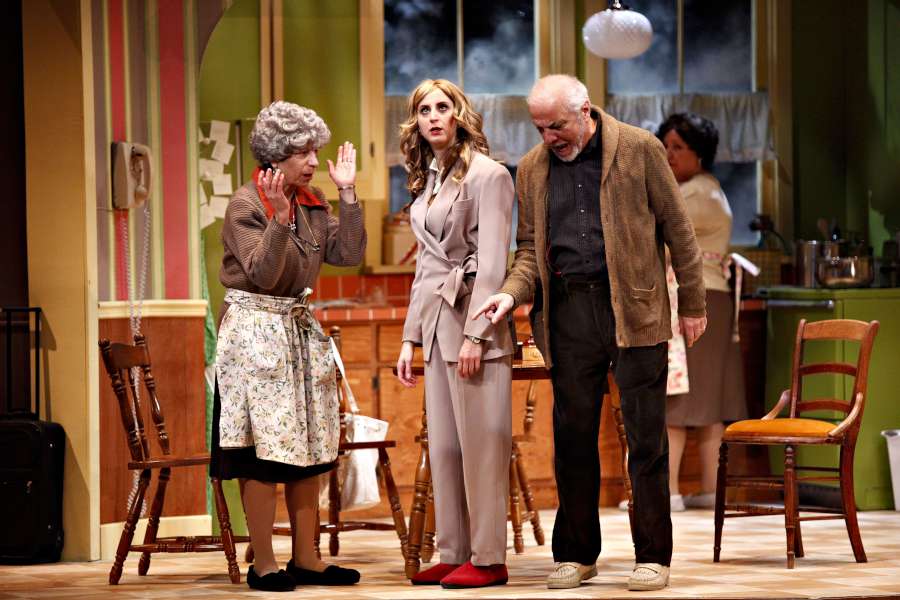 The day a loose moose wanders into town, it rattles four generations of an Italian/Canadian immigrant family into the realization that they are not the only ones that are displaced and confused. For those of you not familiar with a moose, it's a large brown haired animal, with antlers, weighs close to a ton, appears to look dumb or confused, which it may or may not be, and it has feelings too.
The curtain rises on our narrator, a beer-toting, wisecracking moose on his way home after tipping a few with his fellow Moose Lodge members.
He introduces us to the Tappino family: grandparents RODOLFO & PINA, their daughter MARIA and her husband GIUSEPPE, all of whom left the Mediterranean warmth of Southern Italy in the early 60s for a better life elsewhere. Like many immigrants at that time, the Tappino's never bothered to look at a map and therefore had no idea of where they were actually headed, except that it was somewhere in North America. After the long journey by ship and then train, they reached their final destination - Way Up Bay. It's called 'way up' because it's WAY UP in bush country, north of Lake Superior, where wind-chill drops winter temperatures below forty-Celsius and snow banks can reach two meters high.
Raising a family in Northern Ontario is a challenge for the Tappino's. They don't speak English and their adult kids - all four of them born in Canada - don't speak Italian. Like all immigrant children, they try to blend in and assimilate to feel Canadian, whatever Canadian is, but at home, their parents' old world attitudes make for a lot of communication breakdown in daily spirited debates over . . . well, pretty much everything.
Daughter CARMELA is married to DARRYL who is not Italian. They have a little boy, TIMOTHY, whose grandparents can't pronounce his name and call him Team. Older son BRUNO, a couch-potato, is glued to the weather channel and is dating HONABIGI, also not Italian. She's an indigenous girl who works for the Ministry of Game and Wildlife. Younger brother JOSEPH is studying to be a nurse, whom his father likes to say, "Is not a job for a man." GINA - the oldest - moved to the big city to work in Marketing. Her parents have no idea why she's there, who she dates, or what it means to work in Marketing.
With our moose on the loose stuck in the backyard camper trailer of their Polish neighbor, everyone is calling the Tappino household to find out what's going on. Giuseppe - after a shot or two of home-brewed Grappa - grabs his hunting rifle and goes outside because he wants to shoot the moose. Through a complete misunderstanding and culture clash with the local Police Chief, because Giuseppe's English comprehension is not that good, he is arrested and jailed. At the same time Giuseppe's moose ordeal is unfolding, GINA arrives home from overseas to announce that she is pregnant but not married to a man the family has never met.
With so many issues converging at the Tappino household on this cold and snowy November day, Italian family drama, chaos, confusion, and dysfunction ensue. It's a free for all, first in the crowded smelly jail, with the entire family present, to bail Giuseppe out, and later at the kitchen table over Gina's unexpected pregnancy. A whole lot of other generational and moral issues surface, from which the kids learn the sacrifices their grandparents and parents made coming to Canada in order to give them a better life. Of course reconciliation – for Giuseppe at least – is made easier by knowing Gina's new man and husband to be is . . . Italian.
Bottom-line . . . whether you're a moose on the loose, a child of immigrant parents, or an Italian from Calabria living in Way Up Bay, Ontario . . . blending in is never easy.
Why see the Moose? Why now? How the Moose came to be.
Moose On The Loose, a comedy about an Italian family and a Canadian moose that meet up in Way Up Bay, is loosely based on true events. Way Up Bay is a fictional small town in Northern Ontario, near the icy cold shores of Lake Superior, where temperatures can dip to minus forty-Celsius and wind chill off the lake is just icing on the cake. Lets just say it's any Canadian city, where temperatures drop below freezing.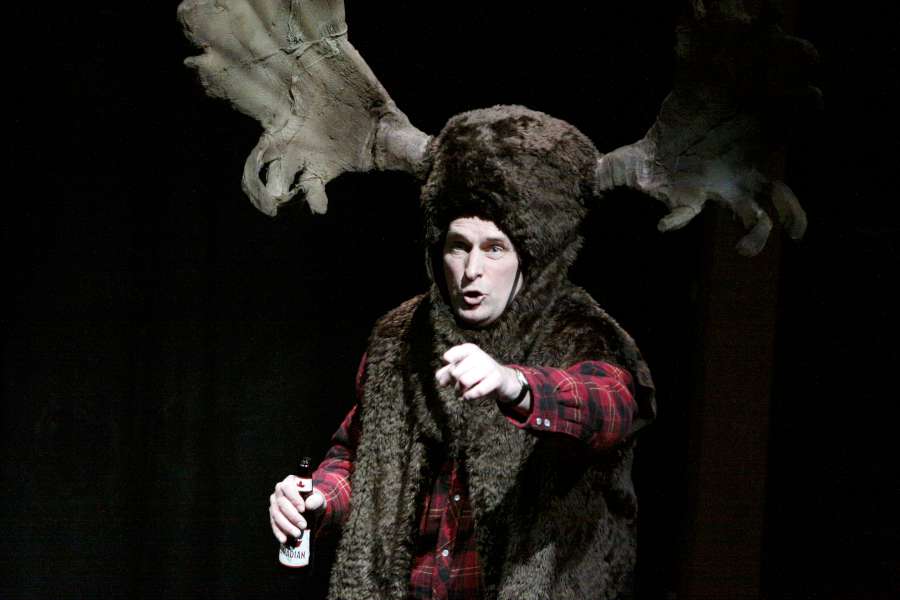 One Sunday afternoon, a few years back, my mother told me via a telephone conversation about an incident which had occurred in my hometown. A moose wandered out of the bush from across the street and made its way into her Polish neighbor's back yard where it got stuck in a camper trailer. While the moose tried to figure out its next move, the locals became nervous and restless because the entire neighborhood was on lockdown. Police, Firemen, and the local News were called in. The Ministry of Wildlife Services arrived to deal with the confused moose. This made for quite an exciting day in an otherwise uneventful small town. The moose was finally sedated and transported back to the bush where I hope it made a full recovery and was reunited with its family.
The event got me thinking about how displaced that moose must have felt. I reflected on my parents and many others like them who had come from other parts of the world as immigrants only to end up in a place like Way Up Bay where they too felt displaced. I then thought about myself, the daughter of immigrant parents, and how displaced I felt growing up in an Italian household while trying to fit in with my Canadian friends. And then I realized that whether you are a moose on the loose, a child of immigrant parents, or an Italian from Calabria living in Way Up Bay, blending in is never easy.
Moose On The Loose is a full length examination of the Tappino family beginning with patriarch Rodolfo, matriarch Pina, their daughter Maria and her husband Giuseppe, who left the Mediterranean warmth of Calabria, in southern Italy, in the early 60's for a better life in America and ended up in Moose country or as their four Canadian born children like to call it, the "frozen tundra". Way Up Bay is not what the Tappino's envisioned at the beginning of their long voyage across the Atlantic Ocean, but it's where they settled, raised a family and eventually even called home.
The play is more moose-as-metaphor when it comes to understanding the assimilation process for the immigrant cultures in Canada. It's about change… personal, cultural and generational. More specifically, it is about the courage to change and what change other than death requires more courage than leaving 'home' to immigrate to another country, language and culture?
There are two approaches to this subject and I have chosen humor over melodrama. Moose falls into the category of idiosyncratic (character-driven) humanist comedy. Think George S. Kaufman ('You Can't Take it With You') and the films of Sicilian born Frank Capra where behavior is the story and every character is given time to be seen, heard and remembered. Whether they stand at the center or the edge of the narrative action, each is important. What they say and how they say it affects all of us.
With all that is currently happening in the world and in Canada with regards to immigration, Moose On the Loose is a very timely piece. In fact, in Sudbury, at STC, several Syrian refugees were invited to see the show. It was the very first piece of live theatre they were seeing in Canada. I was so moved when I heard their interview on CBC Radio. One of them said he loved the show because it made him laugh, but that to be funny and make him laugh was not enough, it had to be about something and Moose was about something important. This is why I want to continue to bring this play across Canada and the United States, because both are North American countries that were built by immigrants and are ethnically very diverse.
*A note on language in the script and on stage. I have carefully observed broken English and some Italian in order to differentiate the generational layers within the family and to address the courage it takes to live in a language culture that is not your own.
Who wrote Moose On The Loose?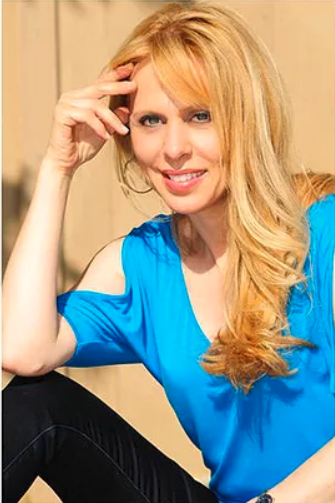 Dina began writing plays, short stories and sketch comedy scenes in grade school in her hometown of Thunder Bay, Ontario. She moved to Toronto to attend Ryerson University, moved to Rome, Italy, and has now settled in Los Angeles where she works as a writer, performer, and voice-over artist. Although Dina's grade school did not have a gymnasium to host theatrical productions or sporting events, she and her best friend convinced the school principal to grant them permission to write and produce the school's first, and only, variety talent show. It was staged in one of the classrooms and only half the school could attend. Dina has come a long way since that variety show. She has gone on to work in Italy, Canada, the Caribbean, and the USA. While working in Rome, Dina had many memorable moments. One of the highlights, however, was a meeting with the Maestro himself, Federico Fellini, which subsequently became the inspiration for a portion of her one-woman show, The Italian in Me.
Dina was selected as one of the Top ten Actresses by reviewplays.com for her performance in The Italian In Me, which she wrote and starred in. Backstage West wrote, "Her profound scene with Federico Fellini is written and rendered to perfection." In 2011 Dina's full-length play, with a cast of twelve, Moose On The Loose, a comedy about an Italian family and a Canadian moose, had its world premiere at Theatre West in Los Angeles where the show opened to rave reviews and sold out shows. Mel Brooks wrote, "I cannot tell a lie, Moose On The Loose is really funny and surprisingly moving."
Moose On The Loose was picked up and successfully produced in Canada by Magnus Theatre, under the direction of Mario Crudo, and by STC Sudbury Theatre Centre, with direction by Caleb Marshall.
Dina is the writer and editor of the Los Angeles based lifestyle magazine, The Eden Magazine. She is a member of the Theatre West writers unit and sits on the Artistic Board. She has done countless performances, showcases, and readings of her work throughout the city. She is the process of getting her new solo show up in the next year, My Uterus, a womb with a view, as well as a five-character play, Sandbags.
Dina is a member of the Playwrights Guild of Canada, Dramatists Guild of America, Academy of Canadian Cinema & Television, Alumni of Ryerson University and UCLA, and a long time member of Theatre West.
Previous Productions
Moose On The Loose, a Comedy in two acts
Running time: 1hr 50 minutes
12 actors - 13 characters
(Moose & Chief, are played by the same actor)
6 Men
5 Women
1 child (male) 10yrs. Old
No set changes – three separate playing fields
1) Sudbury Theatre Centre
Sudbury, Ontario, Canada
February 16, 2017 to March 5, 2017
Directed by Caleb Marshall
Cast
Rodolfo: Gerry Mendicino
Pina: Jocelyne Zucco
Giuseppe: Paul Amato
Maria: Sandra Battaglini
Gina: Tracey Beltramo
Carmela: Amanda Barker
Daryl: Gordon Bolan
Honabigi: Lisa Cromarty
Timothy: Jack Jones
Bruno: Phil Luzi
Moose/Chief: Scott Maudsley
Joseph: Steven Pigozzo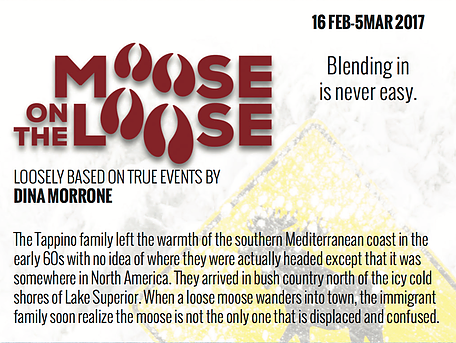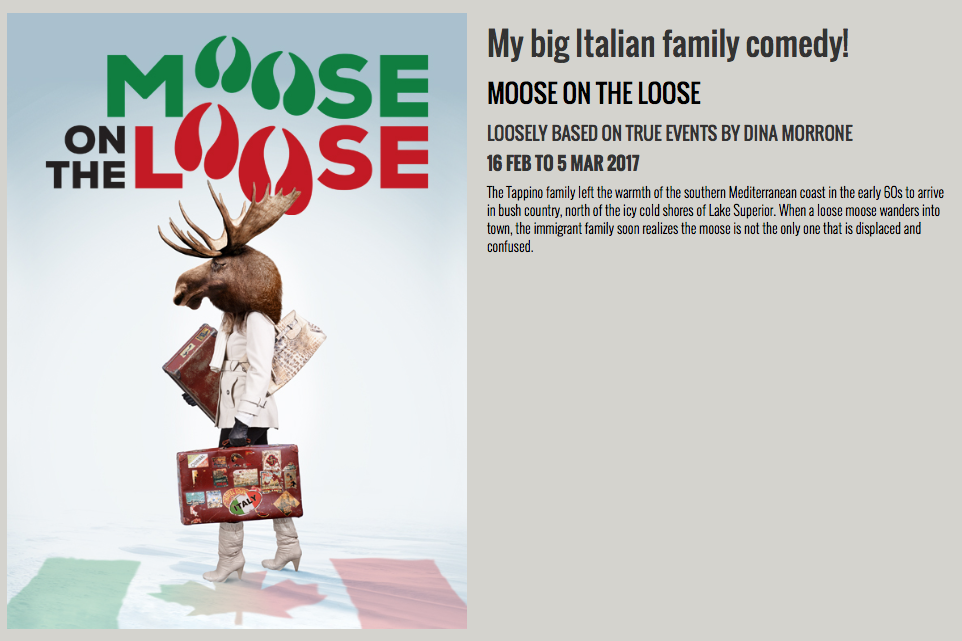 2) Magnus Theatre
Thunder Bay, Ontario, Canada
April 9 – 25, 2015 (held over)
Directed by Mario Crudo
Cast
Rodolfo: Sam Moses
Pina: Linda Goranson
Maria: Viviana Zarillo
Giuseppe: Paul Amato
Moose & Chief: Scott Maudsley
Gina: Amanda Barker
Carmela: Danielle Nicole
Bruno: Nick Babatsikos
Joseph: Robert Bellissimo
Darryl: Danny Johnson
Honabigi: Alice Ombash
Timothy: Wesley Graham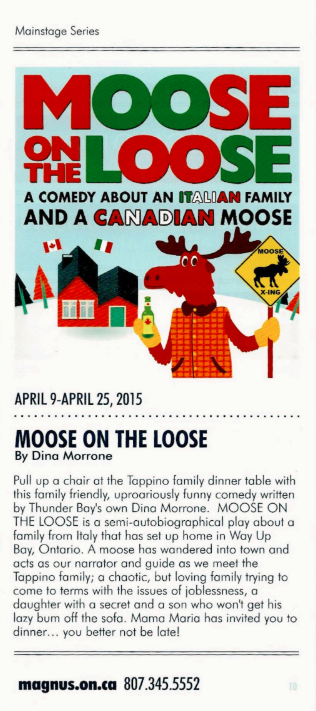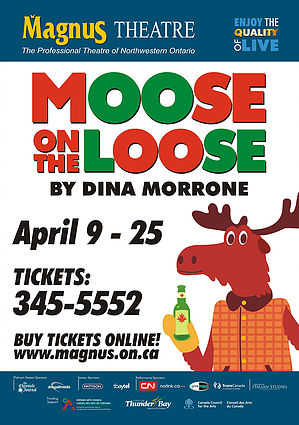 3) Theater West
Los Angeles, California
June 3, 2011 to July 10 (held over)
Directed by Peter Flood
Cast
Rodolfo: Jack Kutcher
Pina: Laura James
Maria: Constance Mellors
Giuseppe: John Cygan
Moose & Chief: Eric Allan Kramer
(double cast) & Tom Badal
Gina: Dina Morrone
Carmela: Corinne Shor
Bruno: Johnny Ferretti
Joseph: Nick McDow
Darryl: Michael Lorre
Honabigi: Jemma Bosch
Timothy: Grant Venable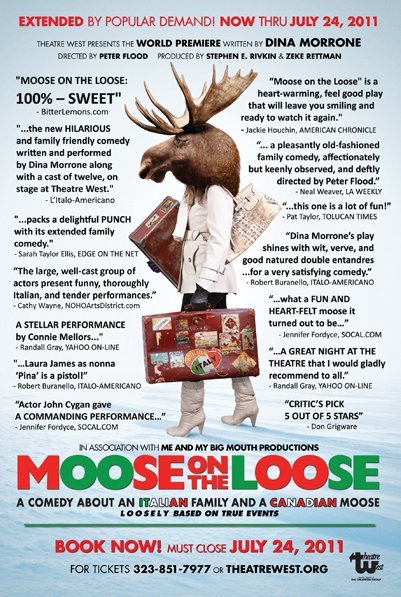 *Moose On the Loose was extensively work-shopped at Theatre West, in Los Angeles, CA, at the Writers Workshop
"Moose On The Loose was extensively work shopped with director/dramaturge Peter Flood, Santa Monica
*Moose On The Loose was selected to be a part of the Reading Series at Theatre West, Los Angeles
*Moose On The Loose was developed, created, and written, in Los Angeles and Canada
*Inspired by true events.